The Book Direct Show is the unmissable event dedicated to short-term rentals managers, hoteliers, serviced apartment providers and B&B owners seeking more direct bookings.
The 2022 conference moves to Miami for its fourth edition having previously being hosted in London and once online. Over 1,000 property managers have joined us both in-person and online from 29 countries.

Completely Independent - No OTA Involvement
The Book Direct Show is produced by a small team of independent property managers and industry experts. There is no outside influence by major online travel agents (OTAs).
Our sole aim is to provide you with unbiassed, actionable education helping you to achieve more direct bookings.
Join us in 2022.
Who's Behind the Show?
Damian Sheridan
Founder & Director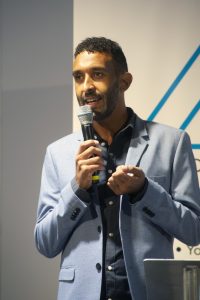 Damian has been involved in short-term rental industry since 2003 as a manager of several rental properties throughout Europe.
As a Search Engine Optimisation (SEO) consultant with over 10 years experience, he works almost exclusively with property management companies in the short-term rental industry.
In these years Damian have observed the industry change significantly and unsustainably reliant upon major OTAs for bookings and revenue.
Damian has dedicated the last 3 years to curating online and in-person events alongside the leading #BookDirect advocates in the world focusing on how property managers can generate more direct bookings and regain independence and control back into their business.
Email: damian@bookdirect.show
Deborah Labi
Director
Creative minded entrepreneur with passion, constantly sprouting ideas.
Founder of The Guest Innspector, offering an end-to-end service for STR Businesses to improve business systems, property & guest experiences. And presenting the Techsplained interviews where software and services companies, as well as important issues are explained and shared!
Co-Host for the Book Direct Show, a live and virtual conference with educational sessions teaching you how to get (more) direct bookings.
Founder of numerous enterprises such as Your Coucou, a mental health app, Have You Got a global, automated, monetised guest referral and booking platform. And lots more. Find them all at www.deborahlabi.com
Email: deborah@bookdirect.show